Linfield Splits with Whitworth, Second in Conference
Linfield looked to top Whitworth in the race for rights to host the Northwest Conference championship. Linfield split with Whitworth 2-2, giving Whitworth the right to host.
On Friday, a double header provided Linfield and Whitworth with a win each. Linfield defeated Whitworth in game one decisively 5-0.
Pitcher Shelby Saylors, '19, allowed only six hits and no walks. Her only questionable moment was in the sixth inning with the Pirates having bases loaded and one out. Saylors forced back-to-back pop flies by two Whitworth hitters to end the threat.
Kenzie Schmoll, '17, hit a double to the left-center and scored Darian Stedman, '19, and Alissa Buss, '17.
Linfield piled twelve hits to the Pirates six and neither team committed an error.
In game two, Brooke Chapman, '17, pitched in the second game gave four hits to the Pirates. Whitworth was able to defeat Linfield 4-1. Erin Kinney, '17, managed to send Buss home in the fourth inning to give Linfield their lone point.
The Pirates third baseman scored a first pitch home run in the fifth inning. In response, Linfield threatened in both sixth and seventh innings, but Linfield couldn't find momentum to trim Whitworth's lead. Brynn Lio, '18, threw nearly three innings in relief of Chapman.
On Saturday, in game one, a six-run explosion clutched the victory for the Wildcats 7-2. The inning included RBIs by Kinney, Emily Allen, '18, and Kenzie Schmoll, '17.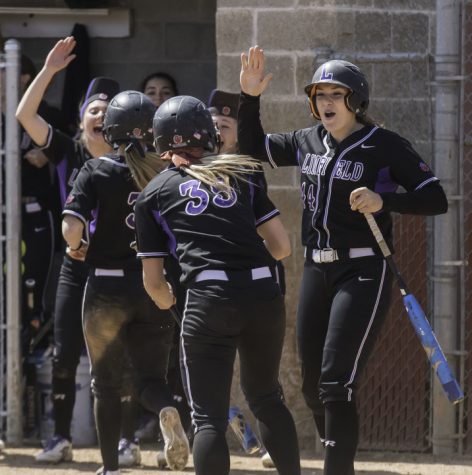 Wildcats pitcher, Saylors held the Pirates to only four hits for the pitching victory by striking out two batters and walking one.
Kinney, Schmoll, and Stedman, produced two hits a piece. Whitworth put its only two runs on the board in the second inning.
In the second game, Whitworth put together eight hits in the opening frames, scoring six runs. The Pirates loaded the bases on Saylors in the first inning and thus, the Pirates gained a 3-0 advantage.
In the second inning, Whitworth stretched their lead to 6-0 with a two-run single to center field. Meanwhile, the Wildcats pushed three runs home in the third inning.
Tanna Benson, '19, pitched the final four innings, allowing five hits and no runs. The final score of the game gave Whitworth a victory 6-3 and the Northwest Conference crown on the regular season.
On the mentality going into the series, "the mentality of the team was to compete and play our best softball. We knew if we did that, the winning would take care of itself," said Melanie Oord, '18.
"Going into this series, we knew that if we wanted to win conference, we had to take three out of four of the games and we were up to the challenge. We wanted nothing more than to win conference and take Whitworth down while we were at it," said Stedman.
On the losses Friday and Saturday, "we didn't make adjustments that we needed to. We didn't play to our potential and the scores showed it," said Oord.
"I think we just let ourselves lose a little focus. It wasn't necessarily us not wanting it, because we did, but moreso us not being able to get the job done. We didn't match the clutch hits we needed to or play defense flawless and that hurt us," echoed Stedman.
On the weekend overall, "Any competitive athlete is going to evaluate a weekend with some losses as not great. This weekend gave us some certain areas of our game we need to improve in order to be the best we can be. This weekend wasn't our best level of play, but that is just motivating us as we head to Spokane for the tournament this [upcoming] weekend," concluded Oord.
"This weekend had some negatives,but it definitely had some positives as well. We know we can hands down play with them and beat them when we are on our game. I think we just have a couple things to fine tune and we will be dangerous in the postseason," said Stedman.
On the season, the 'Cats are 32-8 overall, 21-7 in the Northwest Conference.
The Wildcats travel to Spokane, Washington as the number two seed and will play third seed Pacific Lutheran on Friday at 2:30pm.