Immigration, infrastructure projects and drug addict support highlight town hall discussion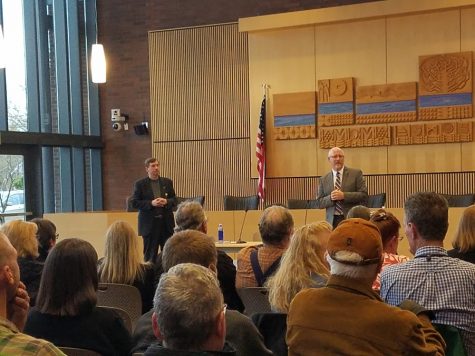 Members of the public discussed local, state and national issues with state Representative Ron Noble and state Senator Brian Boquist on Thursday at a town hall meeting at the McMinnville City Hall.
Many issues were brought up by the public, including funding infrastructure projects, expanding programs for recovering drug addicts, localizing programs for child protective services, gun control, immigration reform, fighting the landfill, climate change and healthcare.
Yamhill community members are concerned about the Newberg-Dundee Bypass project. Phase one of the project is already underway, which is the construction of a four-mile expressway extending from 99W south of Dundee to OR 219.  The project is intended to reduce the traffic congestion in the area.
Phase two of the project intends to build an 11-mile expressway, extending from Dayton to just east of Newberg. However, the funding is not available for this part.
"This is a major issue," Noble said. "It is critical we provide an effective, easy means of travel."
Noble and Boquist told those at the meeting that it will take their support to get this project done.
"Without the bypass being passed, it puts rural Oregon at a disadvantage. We have the people; we just need the transportation," one of the community members said.
Another member of the community expressed his concern of the lack of programs to help recovering drug addicts.
"Drugs are an epidemic and it's killing my generation," he said. "Kids are getting picked up and being taken to jail. You can't punish an addict more than they punish themselves every day. You need to give us a solution."
Boquist and Noble said it is critical to work with people to deal with addiction and expand programs to achieve this.
The topic that created the most tension in the town hall was immigration reform. A member of the community asked both Boquist and Noble how they plan to "help support our neighbors, families and co-workers," as the Latino community is growing.
Another community member shouted, "What are you going to do about it?"
In response, Boquist said, "The state isn't going to do anything about it because we don't have legal authority."
Members of the public addressed Boquist and Noble about healthcare and the future of the Affordable Care Act.
Noble said he wished he had an answer on how to tackle this issue. "Healthcare is a monster we still need to figure out," he said.