Yangchen, Maier win ASLC election
Tenzin Yangchen, '18, and Alleta Maier, '18, won this year's election for president and vice president of ASLC for the 2017-18 school year.
Yanchen won the presidency by 59 percent, securing 382 votes. Noah Berg, '18, lost, receiving 223 votes, giving him 34 percent of the vote.
Maier won the vice president position by 47 percent, securing 308 votes. Jacob Jackson, '18, received 229 votes putting him in a close second with 35 percent of the vote.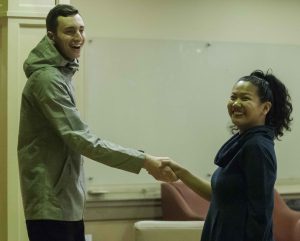 "The candidates campaigned really well. They utilized social media, posters and advertised around campus," said current vice president Mikenna Whatley, '17.
The election polls closed Tuesday night at 8 p.m. and were calculated by current members of the cabinet.
A total of 644 votes were counted in all, meaning that 42 percent of the student body voted in this year's election.
"The voter turnout for this year was great, there were a lot of interesting people running," said  current ASLC president Nathan Pellatz,'17.
In last year's election, 39 percent of the student body voted.
ASLC is now accepting applications for cabinet stipend positions including VP of Business & Finance, VP of Programming, Secretary, Club Director, Publicity Director, Sports Director and Student Center Director.
Applications are due by email at 5 p.m. on April 3 to ASLC Secretary Helen Lee at [email protected] Students must have at least a 2.5 GPA to apply.
"The election went smoothly and I am happy with the voter turnout, but we can do much better. For now I am looking forward to hiring my cabinet members and working with them to achieve my goals for next year. I highly recommend students interested in the positions to reach out to the current cabinet members and apply," Yangchen said.
"As ASLC's Vice President elect, I'm well aware of all of the work that lies ahead of me. With Tenzin, our cabinet, the senate and myself working together, I find myself overwhelmingly optimistic about where I see Linfield moving in the years to come," Maier said.
Maier also said that both her and Yangchen's campaigns were not easily won and that their opponents also ran respectable campaigns.
"I know that Tenzin and I both have had completely compatible campaigns throughout and we'll work well together as a team to bring to life our goals such as bringing comprehensive diversity policy to campus," Maier said.
"In the weeks to come, we'll be hiring a cabinet and preparing ourselves for our transitions into the presidency and vice presidency including having meetings with the current cabinet members and with Dan Fergueson," Maier said.