'Cats drop ball in first NWC game
The Linfield women's lacrosse team opened up the Northwest Conference play in a home game against Puget Sound. The Wildcats fell to the Loggers in a close game 9-11.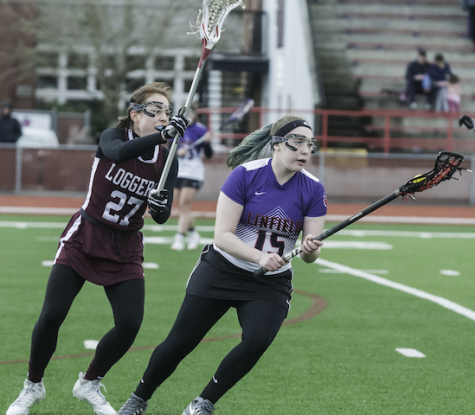 "We started out strong and did well during the first half," senior Amber Kaholoaa said. "We just have to learn to keep the momentum going and keep our heads in the game from start to finish."
        The Wildcats started off strong as they had two goals less than two minutes into the first half. However, the Loggers quickly responded with two goals of their own.
        Linfield created another decent lead by the 14:32 mark with a score of 5-2. But once again the Loggers climbed back to take the lead about three and a half minutes into the second half. The score was 5-6.
        The teams continued to battle, each scoring several goals until 8:33 was left in the game. The score sat 9-11 until the clock ran out and Puget Sound was victorious.
        "I think with having a new team we played really well and what we lack in skill we make up for with effort, and that shows," Dana Brooks said. "But lacrosse is just as much a mental game as it is a physical game and I think during the game today we got mentally beat."
Sophomore Mae Seifert, Kaholoaa and freshman Dana Brooks all contributed to the scoring. Seifert scored four goals while Kaholoaa scored three and Brooks two.
"It was upsetting to lose because we all knew we could have won today," sophomore Cole Lewis said. "Some things didn't flow very well, but that just means room for improvement. I think Mae Seifert and Alex Jensen did an amazing job in the midfield along with Sarah Stuck who caused a lot of turnovers for us on defense."
The Wildcats will face Colorado College at 11:30 a.m. on March 11 at Maxwell field. They hope to have a win to improve their standing in the NWC. George Fox sits in the number one spot with an overall record 2-0, but the season is just beginning and the 'Cats have hopes for being in the mix of the top teams in the conference.
"I think we've got to work on our mental game. We're a new team, and it's going to take some time for us to really play as a team," Kaholoaa said.