Linfield alum at Linfield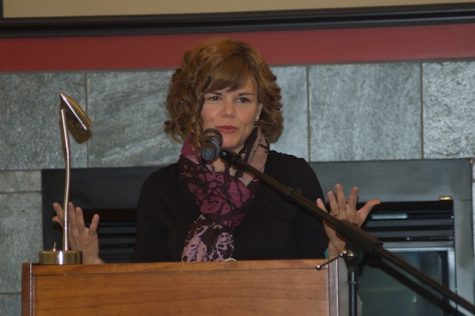 The last Nicholson library reading for the 2016 calendar year was a Linfield alum.
Melissa Yancy, a Linfield alum, begin her talk with a brief history of Linfield. "When I was an undergraduate we called this Sinfield. I don't know if you still do. If you don't, that is my gift to you. Actually it was George Fox who gave us that nickname," Yancy said.
"I think I was the only student who was a religious studies major," Yancy joked.
The first story she read, "Go Forth" had some correlation with her major. "Probably the only story in the collection where there's a little bit of the religious studies major, so that's why I've chosen this first one," Yancy said.
Yancy works at a non-profit sector at UCLA and shared where some of her story ideas come from. "I sometimes hear those stories at work, where I'm like no one would believe this story, so the project of this and some of the other stories is how do you make those stories real when they just seem crazy," Yancy said.
Yancy described why she enjoys writing. "I learned to love the lense that the writing is on the world. It creates meaning for all the rest of that life," she said.
Yancy provided some inspiring words for aspiring writers. "It has nothing to do with success at a certain level. Don't stop dreaming of success. Especially as a young writer, you have to be delusional. Deeply, deeply delusional. You should absolutely think that. You have to completely allow yourself to have whatever fantasies you want to have about what the writing life is going to be. It's not something that anyone can tell you. You have to live it," Yancy said.
Katie Higinbotham, a creative writing major, loved the talk. "I'm always inspired and encouraged to see a Linfield grad out there following their ambitions. I loved her advice on failure, and the idea that everyone may have time to succeed if they keep at it," Higinbotham said.
"I thought she was a great presenter. I thoroughly enjoyed listening to her pieces. I liked her story about her life after Linfield and I think it's really motivating to hear what people go on to do after Linfield," Maddy McCormak said.