Intimate Cat Cab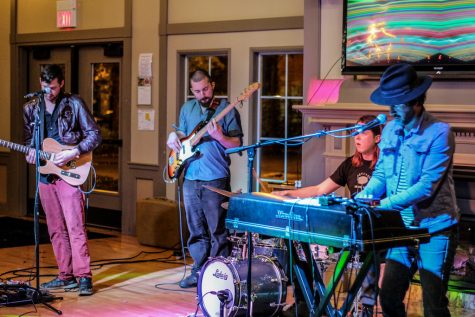 Beach Fire brought upbeat music and great lyrics to Linfield.
Instead of the typical white folding chairs, red plush chairs were lined up for a more intimate cat cab. A small number of students were there which allowed the band members of Beach Fire to interact with them.
The lead signer, Sloan Martin, talked to the crowd while the band was setting up. He immediately noticed Starbucks' closed door and exclaimed, "Oh they closed the doors! Is that allowed?" Martin noted how the closed doors makes FML "awkwardly too quiet."
The two hour show was split into original songs during the first half and covers during the second half.
Martin introduced his original songs by stating "we're getting our old ones out of the way." Beach Fire played a multitude of upbeat songs with great lyrics such as "the comeback kid" and "two shots".
Unlike other cat cabs, Beach Fire took a five-minute break in the middle of their set, and asked the audience if that was ok. "Do you mind if we take a five minute break? Then we'll start our second set" Martin said. It was an unusual format for a Cat Cab.
Martin joked that their next song is called "junk in your trunk. Just kidding, it's called funk in your munk."

Another original song is called "French Afro" and Martin instructed the audience to "ask your friends and they will know what that is" joked Martin.
Martin took a break for the final few songs and his back-up singer, Will Kinky took over. He performed an array of songs: "Latch" by Sam Smith, "Crazy" by Gnarls Barkley, and finished the set with "I'd Rather Go Blind" by Etta James.  
Russell Hendrickson was thoroughly impressed with Beach Fire. "It was a nice way to spend the evening. I enjoyed the band, and was really interested in the unique style they were going for," said Hendrickson.
The mix of cover songs and original songs made this a night to remember.