Linfield professors, alumna collaborate on original choral work
A new choral piece composed by a Linfield professor with lyrics by a Linfield graduate will have its world premiere performance by the Linfield Concert Choir at 4 p.m. on Sunday in Ice auditorium.
"When Justice Reigns" was commissioned by the Lacroute Arts Series and written by Andrea Reinkemeyer, Assistant Professor of Music Composition & Theory at Linfield. The text was composed by Janine Applegate, '70.
The commission began as an idea between two Linfield professors, Reinkemeyer and Anna Song, Professor of Music and Director of Choral Activities.
"Dr. Anna Song and I had long discussed the possibility of collaborating on a new work for the Linfield Concert Choir, but this commission made it a reality," Reinkemeyer said.
Song said, "I was really taken with several of [Reinkemeyer's] other works and knew that she would create something unique and meaningful. I was also keen on giving students the opportunity to engage with the composer; many times we don't have that opportunity."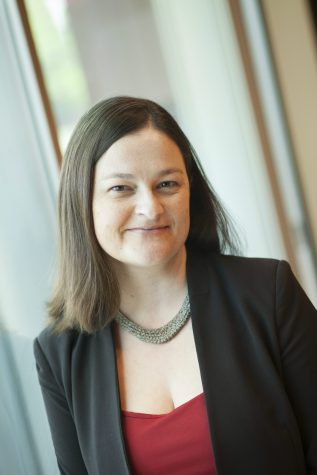 An Oregon native, Reinkemeyer was born in Portland and raised in Troutdale.
"As a child, the radio was always on in my house so I was able to develop a deep listening history of the classical repertoire from my parent's radio and the heavier rock my sister enjoyed," she said.
Reinkemeyer began playing the piano in second grade and picked up the violin in fourth grade. In high school, she joined the Portland Youth Philharmonic Preparatory Orchestra. She received her undergraduate degree from the University of Oregon and did masters work at the University of Michigan. Before coming to Linfield, she taught at Bowling Green State University and lived in Bangkok, Thailand, for three years.
"My path to a profession was winding, with detours in biology and music education, but I eventually found my voice in the area of composition. One of the aspects I enjoy most about composing is synthesizing a wide array of interests and experiences through time and sound," Reinkemeyer said.
Writing specifically for the Linfield Concert Choir was "especially touching" for Reinkemeyer, "they were constantly in my thoughts as I was composing this piece . . . this was a way to craft a work just for them. It's also been fun having conversations with students I didn't previously know; this piece has been a great conversation starter."
The theme of "When Justice Reigns" is, quite aptly, social justice.
"We knew we wanted the words to be relevant to young people, and perhaps to connect to social justice in some way," Song said.
For the lyrics, Song asked a source close to home. "After looking at various texts, I decided to ask my mother-in-law Janine Applegate . . . a published lyricist, if she'd be willing to write a poem for consideration."
Applegate was born and raised in Seattle, Washington, and met her husband at Linfield when they were both undergraduate majors in philosophy. She has had works published by Trinitas, Paraclete Press and The American Hymnal Association, among others.
She has worked for the church for 40 years and currently serves as the Director of Parish Education at Holy Rosary Catholic Church in Portland.
Applegate has a history of creating works with a social conscience. She collaborated with Dr. Randall Giles in 1984 on a piece called "Invocation," which was "a choral work commissioned by Physicians for Social Responsibility and Performing Artists for Nuclear Disarmament for a concert against nuclear arms in Portland . . . Decades later, it seemed fitting to again write for my alma mater, especially a work of similar social significance and conscience."
Applegate mused, "I find inspiration in language itself; the music of the words, and the economy of expression. One always hopes one's words, as impoverished as they are, will communicate. When combined with music, their power can be profound."
Reinkemeyer's favorite aspect of the piece is the middle section which is "a meditation on the text, 'Where hatred dwells there is no peace.' At that moment, the tenors and basses are chanting while the altos and sopranos are singing rather clashing tones in their lowest register."
"It is evocative and expresses my deep sorrow for all the hatred I see around me, especially during this divisive time," Reinkemeyer said.
For Applegate, this type of creation was a departure from her usual pieces of work.
"My favorite aspect of this piece was the challenge was not to write an overtly theological piece, but to communicate those most basic realities we all share as visitors on a planet not of our making."
Applegate said, "Mine is not a particular political statement. It is just a reminder, if only to myself, that not one of us chose to be born at a particular time, in a particular place, of particular creed or nation; indeed, to be born at all. We are in this together."
The goal of the piece is a simple one: to make people think. "I would love it if the piece gives people a few moments to contemplate injustices they see in the world around them and think about ways they can help improve the situation," Reinkemeyer said.
Sharing Reinkemeyer's sentiments, Applegate said she hopes that those who hear it will be "reminded that fundamentally we have much more in common than could ever really divide us."