'QTea' provides safe space for students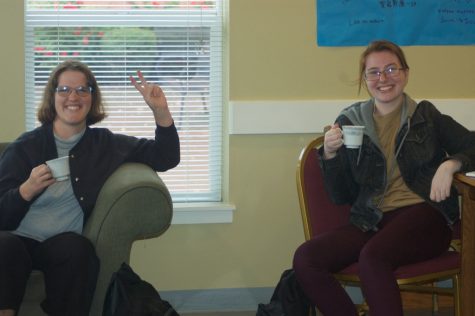 After a long week, nothing says relaxation like warm tea, cookies, and a safe place to talk.
Students have the opportunity of coming to the multicultural center every Friday from two to five for some free tea and a safe place to talk. "QTea is designed for anyone to come in and out as they please. You don't have to stay the entire time," said Emma Keyes, '17.
"QTea stands for Queer Tea. The name has the advantage of sounding like cutie," said Keyes. Kaitlyn Fieldhouse, '20, "likes how inclusive QTea is and likes the name a lot."
The idea for QTea came from an unusual place. "I picked up this idea from studying abroad in New Zealand and thought it was something Linfield needed," said Keyes.
Any student is welcome to come to the weekly QTea. "It's a community event for students who identify as LGBTQ or Allies. It is run by FUSION, which is Linfield's Queer Student Union" said Keyes.
For students who want to get involved at Linfield, this is the perfect jumping off point. "When I came to Linfield, I wanted to make sure I was involved in something. I am involved in FUSION and participated in the human sex panel. I like the inclusivity," said Fieldhouse.
Keyes expects more students will come as it gets colder outside since tea is always more enticing when it's chillier. "I'm pretty much a regular. I've been coming here since the start of September. My roommates are the ones who organized this event," said Aimee Bertolli, '17.
While it is not set in stone, the QTea meetings "may continue during Jan Term, depending on our schedules" said Elizabeth Loukas.
Next time Friday rolls around, stop by the Multicultural room and enjoy some warm tea!