Linfield Gallery: 10 minutes of 'yes'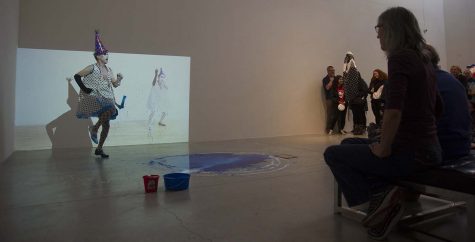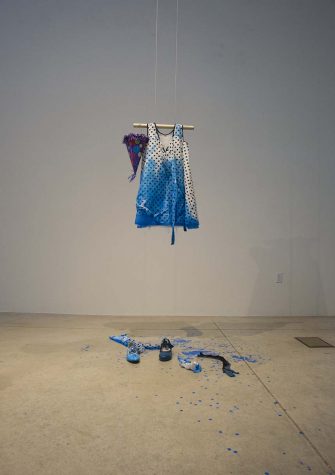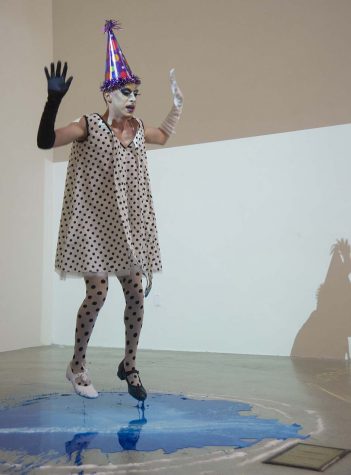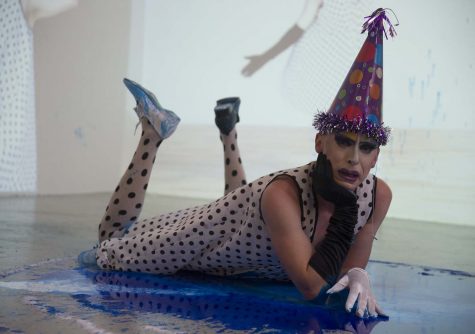 The chatter of the crowd of art enthusiasts fell quickly to a hush as a man stepped into the room wearing nothing but polka dot tights, white and black tapping shoes and a face full of makeup.
There is not a lot of material art in the Linfield Gallery this month. A handful of Native American-esque dresses, crafted from Wendy Red Star, are scattered in the gallery and appear to be floating from their hangers. But one side of the gallery is cornered off with chalk and a circle of salt. On the wall there are two videos of a clown in drag jumping and mouthing something inaudible. The real excitement from this exhibition was the performance.
What is visitors must understand about this gallery is that if you missed the performance, then you missed a vital part of this exhibit's experience.
Once Kaj-anne Pepper made her entrance, she took off a party hat and a white polka dot dress from one of the hangers and put them on. She made her way to the center of the salt circle, not failing to immediately connect with the audience. "Wow, what a turn out!"
Once in the middle, Kaj-anne Pepper pumped up the crowd, introduced herself, thanked the Linfield Gallery curator, Josephine Zarkovich and explained what she was going to do:
She was going to say "yes" for ten minutes straight.
The performance began calmly. After thirty seconds, the yeses started to blend together to form a kind of ambient noise, but she was running out of air. During these ten minutes of yes, Kaj-anne started to jump, swing her arms, jogs in place, crouches in exhaustion, gets back up determined, whispers, yells, siren-like, high pitched yeses, dances, points at the audience with approval yeses, and even cried out some tired, "why did I do this to myself?" yeses.
But no matter what, she was saying yes. Yes to the exhaustion, yes to the people watching, yes to getting paint on the dress and the walls, yes to everything.
The artists' statement said that they "address the ways in which costume and ritual can create, reinforce, or subvert cultural identity."
With that said, the stereotypes in both of the artists' work were subtle, but very much present. There were feathers on the Native American dresses. "Yes" in this exhibit's context is a gay man's sassy approval.
But the fact that those subtle stereotypes are there could be a very tongue in cheek gesture to typical societal views. Despite the culture clichés,the performance and garments are beautiful in itself.
Once the ten minutes were up, Kaj-anne Pepper quietly walked to the hanger from where she pulled the dress from. She took off the dress, which was still dripping from blue paint, the party hat, the shoes, and the polka dot tights, and quietly left the gallery with a chin held high.