Comedian meshes music with laughter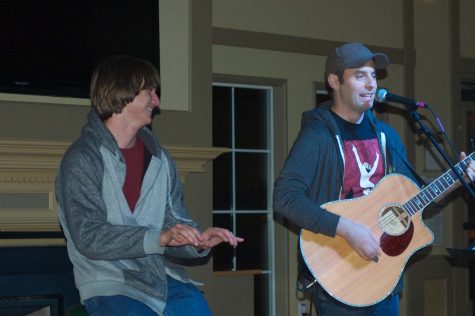 A surplus of students were expecting Saturday night's comedian to perform in Ice auditorium. Yet, contrary to WildCat Weekly and the locked doors in ICE, this performance was in FML.
A guitar-playing comedian utilized audience participation throughout the hour-long show. In the first audience participation act of the night, Evan Wecksell brought out Liam Home for a bit titled "Online Roommate." Liam was instructed to fake typing on a computer, while Wecksell sang about what Liam's favorite things were, often asking Liam while strumming his guitar.
With the chaoticness of this election season, Wecksell went right into the political humor. Wecksell mentioned how he only has a few more weeks to sing this song. "One month until we're back to posting food on social media. I have a month left to play this song, so consider this an election primer" joked Wecksell. While Wecksell played some chords, he sang some comparisons and contrasts. "If they were movie remakes, Clinton would be the Ghostbusters remake and Trump would be fantastic four" said Wecksell.
Wecksell also played tribute to David Letterman by performing a top 10 list about Linfield. The number ten item was wildstock and the number one item was that "we aren't George Fox" said Wecksell.
"My favorite part of the night was when Wecksell listed the top ten things we like about Linfield," said Kaylee Lamphiear.
One of the highlights of the night was when Wecksell decided to play a well-known song but had the audience chime in adjectives and verbs for an ad-libbed song. Wecksell played Bruno Mars' "Just the Way You Are" with different lyrics such as "because Jane you're ugly, just the way you are" sung Wecksell.
Wecksell also asked people in the audience to write down something embarrassing that happened to them which would then be read anonymously to the audience. The tidbit that won first place was one that said "my mom ran off with my cousin."
The final act was when Wecksell asked for three volunteers. Each volunteer picked a number between one and 25 and got to do whatever they wanted to do during the song such as lip synch or strut across the stage.
The mixture of humor and music made this a unique and fun comedian.