An eclectic trio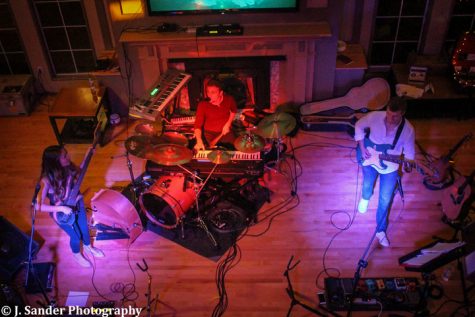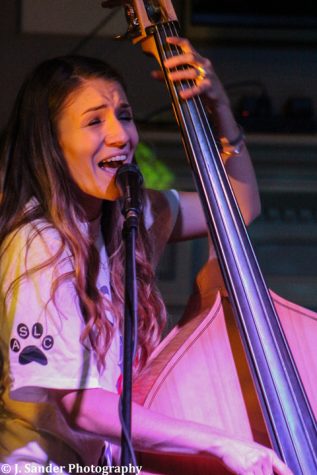 The incentive of Mexican food and live music to kick off homecoming weekend made this Cat Cab one to remember.
We Three, a sibling trio from McMinnville, performed an array of songs from Darius Rucker's "Wagon Wheel" to "Closer" by the Chainsmokers.
Bethany Blanchard, the only female of the group said her favorite song to perform right now is Closer. "We learned it last night," she said.
No era of music was off the limits for this duo. Each cover was a pleasant surprise, from Ed Sheeran's "Thinking Out Loud" to Elvis Presley's "You Aint Nothing but a Hound Dog." Each genre was met by applause from the crowd.
The crowd was an eccentric mix of Linfield students and Mac townies, such as We Three's significant others. Manuel Humlie performed two songs he'd written about a girl he was too nervous to talk to. They are now engaged.
This was We Three's second time at Linfield, and they noted how more energetic this crowd was than last years. "We love coming here. The crowd was a lot more lively than last time," Blanchard said.
During the middle of the show, the concert took a more serious tone. "Life gets hard, things get tough and this song is about the darkness in our lives but then it also has some light" said Joshua. This uplifting message was introduced before We Three played an original song that will appear in Neverland, a new album that comes out March 2017.
The highlight of the night were two spontaneous moments: an air guitar contest, and We Three doning the "Get Wild" homecoming t-shirts.
We Three picked, no surprise here, three contestants to fake play a guitar. Audrey Colleen, a Freshman, won the air guitar competition and a CD from We Three. "It was amazing. I had a little bit of a rush", said Colleen.
If any Linfield students missed this amazing trio, KSLC will be rebroadcasting the We Three concert on Sunday, Oct. 2 from 1 to 2 p.m. Everyone can tune in on 90. 3 FM and via the Listen Live link on linfield.edu/kslcfm