Linfield's committed dog walker
Many Linfield students have seen or know of the devoted woman who walks her two or three dogs around campus and can be easily spotted on most days in her neon pink jacket.
She has become informally known around campus as the elusive dog-walker, who students, faculty and staff may catch a brief glimpse of before she continues down the sidewalk with her dogs.
Nancy Carlson has three dogs, but today she was walking two of them. Carlson listens to music as she walks, and pressed pause on her iPod shuffle which was clipped to her clothing. Today she was walking "a Cardigan Welsh Corgi named Fiddlestix and a Greyhound named Irish," Carlson said.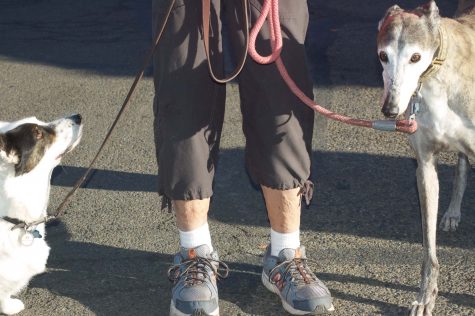 Both dogs are friendly and well trained.
Carlson is difficult to catch up with and for a good reason: "I walk around Linfield and then the wellness trail. I do this six times a week," she said.
Carlson is retired and can be seen walking her dogs around the Linfield campus almost every day. "I enjoy the campus."
Next time you see Carlson and her dogs walking around, make sure to say hello. They do not bite.