Contemporary artists draws from literary fiction in his art from the old west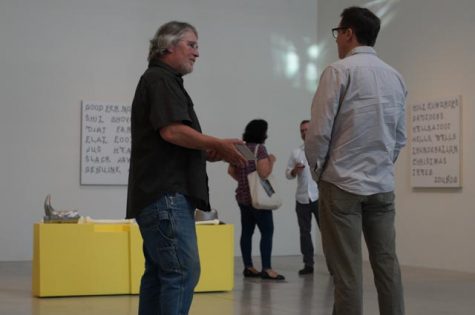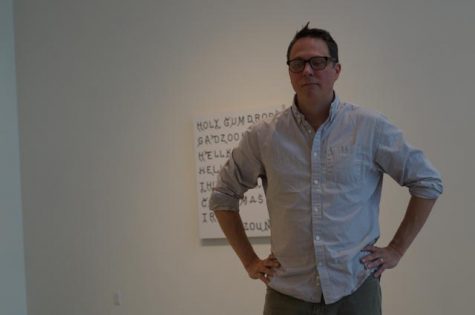 Imagination is what gives a piece of art a story, a hidden meaning within the creation itself. On Sept. 10, the Linfield Gallery had the honor to hold a special exhibition of the creative work of Donald Morgan and Rebecca Peel, which was displayed by the Portland2016 Biennial.
Rebecca Peel did not attend the event at the Linfield gallery, but her colleague, Morgan, was present. Both Linfield students and art enthusiasts admired and examined the works of Morgan and Peel.
Morgan said his favorite piece would have to be the exhibition's center piece, which features a replica of a dead cowboy on top of an excavated grave bed.  "I'm super into the stainless steel boot. I got another one that has the back cut off, which was meant to fit on the piece, but I have another one and I'm going to put flowers in it and I'm pretty excited about it," Morgan said. 
Morgan's statement in the exhibition's brochure mentioned that his inspiration of his artwork was the use of literary fiction. He explained that he enjoyed finding the "complex connection and disconnections between source material and artistic output," Morgan explained.
He talked about the Old Western theme as his main inspiration of his exhibition. "Mostly fiction and for this one, literary Westerns. In particular, a post-modern western called 'Ghost Town' by Robert Coover, which was kind of a seminal postmodern work," Morgan said. 
He also talked about the pieces of art in the show that had text on them. An audience member could examine the piece and see the language of a Western cowboy. "Another sort of facet of that, which I arrived at after reading tons of Westerns, was that Westerns have a great swearing in them and that directly inspired the text pieces. Which they are all authored by me, they are not samples," Morgan said.
Morgan also talked about his childhood and how his passionate love of reading fictional literature influenced his works. "I have been really into reading ever since I was a kid. I was a total bookworm and I knew pretty early on that I was either going to be a writer or be an artist. The reading part of my life is sort of driven by almost pure pleasure and pure impulse. I just want to read things that I enjoy," stated Morgan.
Morgan offered a good set of advice to future artist, who are thinking about pursuing an art career. "I recommend that they get, for a financial perspective, a good back-up plan. Something else to do along with the art because there's not a lot of money in it," he said.
He also encouraged students to spend some time in the city if they can. "If you're an artist student, it's a great idea after getting your undergraduate degree to move to someplace like New York, or Chicago, or Los Angeles where lots and lots of people are making something and do your time there and that will help you grow as an artist," Morgan said.
The exhibition will be on display in the Linfield gallery until Sept. 18.