Meet the ASLC president and vice president candidates
Elections for ASLC President and Vice President are happening on Tuesday, March 8, with votes being counted from 7 a.m. to 7 p.m., according to ASLC.
The candidates for ASLC President are Patty Roberts, '17, and Nathan Pellatz '17, while Mikenna
Whatley, '17, is the lone candidate running for Vice President.
Patty Roberts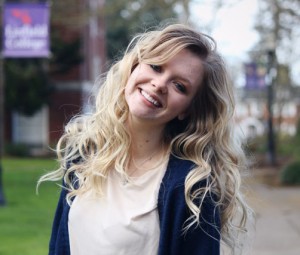 Patty Roberts is a junior, with a double major in psychology and economics.
"I'm running for ASLC President because I have a lot of amazing opportunities here at Linfield. I want to help by giving back to the community and what better way to be a president that serves all of the students. I'm really excited about student government and I have other leadership experiences, but I've never been involved in student government before, and I think this is an amazing opportunity and I'm really excited to give back and make Linfield the best it can be," Roberts said.
She also mentioned the great opportunities that small liberal arts colleges like Linfield offer and how they make it accessible for all students.
"I'm involved in Greek life and a bunch of other organizations on campus, so I have a lot of connections. I feel I can offer my personality, I'm very bubbly and open."
Roberts' leadership background consists of running an Alternative Spring Break last year as a student leader. She was also a FirstClas leader, which helps incoming freshman learn about the campus, make friends, and help out the McMinnville community before classes start.
Roberts was also hall president both her freshman and sophomore year. She is a mentor at Duniway middle school and helps encourage students to continue an education and find their passion.
"I think Patty would be a great candidate for ASLC President, because she is a very involved person on campus. One way she was thinking about doing that is through various means of contacting students and getting us more excited about the opportunities that Linfield has to offer," said Heather McNutt-Kaestner, a co-worker of Roberts at the Career Development office.
"My ultimate goal is to increase the communication between students and faculty. I also have an idea that if none of the systems of communications are working, is creating a texting app where students can sign up to receive updates from clubs, sororities or fraternities that they are interested in joining," Roberts said.
Nathan Pellatz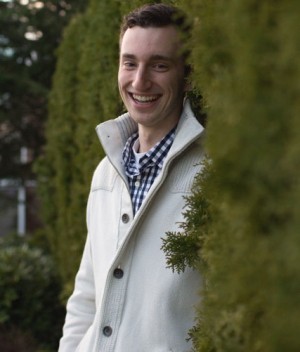 Nathan Pelltaz, who is also running for ASLC President, is a junior finance major with a double minor in economics and sports management.
He has some experience in positions of leadership. He was hall president freshman year, an RA sophomore year, and joined the team of Student Ambassadors in the Admissions office.
"My platform for running for office is student involvement. That is across the board. From athletic events to theatre productions, to poetry recitals, to LCAT Events, I would love to see more people get involved around campus and really take advantage of all of the great activities that we have here. If I win office, my goal would be more student involvement at events by effectively communicating with students in a way that will get them excited about things and give incentives so that people want to go to events even more. Support at this school can be a powerful thing and I'd love to see more of it being shared by all the students," said Pelltaz.
"Nathan is one of those people who is friends with everyone. In order to be successful, he needs to connect well with the student body, which I have no doubt he will easily be able to do. Nathan is a positive light around campus. He is great for so many reasons, but I think his ability to connect with people and bring high energy to campus is one of the major reasons why he would be such an amazing president," said Maggie Flood.
"The students can count on me being responsible and responsive in their interests. They can expect that if they have an idea for the betterment of the college, that idea will be heard at the next Senate meeting and possibly taken forward and put to action. I really stress hearing people's ideas about the college because if this college government is made for the students but isn't open to student suggestions and isn't willing to work and be present for the students, then there isn't really a reason to have a student government," Pelltaz said.
Mikenna Whatley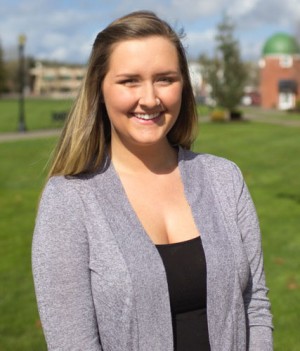 Mikenna Whatley, '17, is running for Vice President and is a psychology major with a music minor.
"I am running for student body vice president because I believe it is the perfect way to capstone my leadership experience here at Linfield. I, like all of the candidates running for ASLC office, want to see as much positive change at Linfield as possible. I've loved every minute of my college experience and I hope that by being the student voice in ASLC and the Board of Trustees I can help the student body have just as an amazing experience as I did," Whatley said.
"Her determination and her ability to overcome challenges … working on ASLC with her this past year, I can already tell that she is capable of taking direction, going with it, leading a group, and making things her own," said Cruz Morey.
Whatley has been part of student government at Linfield for the past 2 years. She also has past leadership experiences including a position in her sorority, in the Linfield Panhellenic Council (LPC), being a CATS presenter, writing for the Linfield Review, participating in an internship at the Yamhill County District Attorney's Office as a Crime Victim Advocate, serving on ASLC Senate, and ASLC Cabinet.
"Even when she is presented with challenges, deadlines, or working with people that aren't responding, anything like that, she is able to take it her own way and overcome that challenge and makes it successful," said Morey.
Whatley said, "My platform for student body vice president consists of three main goals – improving campus safety, increasing student involvement, and giving more responsibility to the senate."
Whatley is also involved in Greek life, choir, a cappella, the psychology department and Psi Chi Honors Society.