Concert Choir performs songs from tour
The auditorium for Wednesday night's Concert Choir concert was filled, as expected. The stage had bleachers for the choir to stand on and was littered with instruments including a piano, xylophones, a rain maker, bass drum and a cymbal.
This concert was the home concert for the Concert Choir's annual tour.
Dr. Anna Song conducted the choir to perfection. Anne Britt accompanied Song and choir to several songs on the program.
The first half of the concert had six songs: "Emerald Stream," "Afternoon on a Hill," Cloud Burst," "Dem dunkeln Schoß der Heilgen Erde," "The Earth is Tired" and "To my Old Brown Earth." All of these songs followed an earth-friendly theme.
The first half of the concert had a variety of flavors: hymn-styled songs, contemporary, Venezuelan salsa-feel, and simple chorales. These songs consisted of voice-only songs with the exception of one.
The instruments were only used in "Cloud Burst." For the most part, the song was sung in a choral-styled. But the instruments that were lying on the stage were being used to create a wonderful imitation of rain hitting a glass window.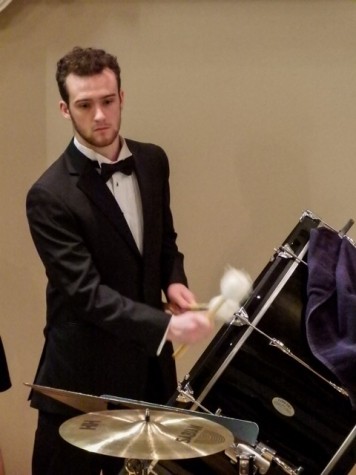 During the intermission, the projector lowered to screen a slideshow of the choir's tour all over California. It showed silly video clips of their performances and endearing pictures of the choir while acoustic rock played in the background.
Three of the last six songs were some of the choir's favorites from the Christmas concert that they played last Winter: "O Radiant Dawn," "O Magnum Mysterium" and "Virga Jesse."
The last three songs were songs selected for this tour: "Reveille (No. & concerto for chorus)," "Selections from Requiem, Opus 48" and "The Storm is Passing Over."
Dr. Anton Belov introduced "Reveille" by Georgy Sviridov as a song for the choir to imitate church bells on a cold, winter morning, and in the distance was the sound of the drum, sung by Megan Uhinak, where the battle was being fought. Anton sang the lyrics in this piece with a grand baritone voice.
The piano accompanied the three selections of "Requieum," IV, VI and VII. Jamie Bostock sang an operatic soprano solo for section IV. Belov joined the VI section to sing the main lyrics.
The concert ended on a more up-beat soulful note. Belov joined the choir for this final song, as well. The piano played a tart melody as the choir burst in triumphant song.
Song confirmed that the choir will begin a new repertoire the following day.