Wildcats rally from early deficit, advance to semifinals
After suffering through a University of Mary Hardin-Baylor dominated first quarter the Wildcats rallied to capture the win 38-35 during a nail-biting game at Maxwell Stadium on Dec. 5.
The Wildcats now advance to the semifinals and face the University of St. Thomas on Dec. 12.
Linfield quarterback Tom Knecht '16 rose to the occasion with 492 passing yards, and started the whole game, as teammate Sam Riddle '17 was recovering from an injury during the previous week's game.
With the score 21-0 and 7:51 left in the first quarter, the Wildcats needed to buckle down to find a hole in UMHB's defense.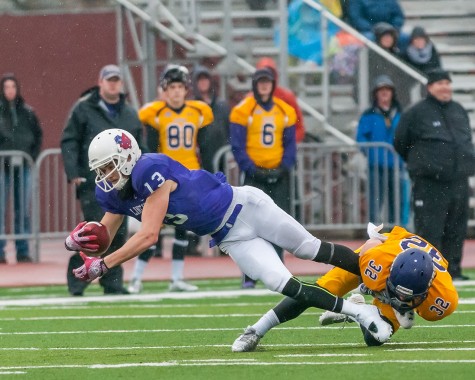 A 36 yard pass from Knecht to Johnny Carroll '17 scored the Wildcats first touchdown and Michael Metter '16 kicked a scoring field goal, moving the score to 21-7.
A fumble in the latter part of the first quarter gave the ball back to the Wildcats, allowing Knecht to throw a short 6 yard pass to Zach Kuzens '17 that lead to the Wildcats second touchdown.
Reflecting on the first quarter, Spencer Payne '17 said, "We started out facing some major adversity … our whole team just believed in each other to bring us back."
After a rough second quarter, with interceptions from both UMHB and Linfield, the Crusaders advanced their lead to 28-14 going in to halftime.
With hopes of advancing to the semifinals, the Wildcats began their rallying campaign in the third quarter, with touchdowns from Carroll and Brian Balsiger '16 off of passes from Knecht leaving the Wildcats tied with UMB 28-28 at the end of the third quarter.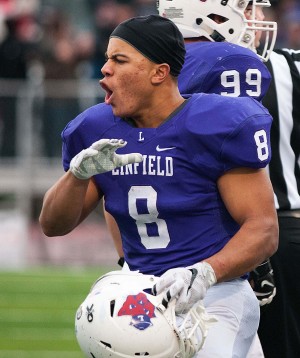 "I was  proud of Tom and how he stepped up and lead our team to this victory. We couldn't have done it without him," Payne said.
With just under seven minutes left in the fourth quarter, Linfield delivered one of its final blows, as Knecht made a 27 yard pass to Balsinger moving the score to 35-28.
UMHB wide receiver Thomas DeNerian scored the longest run of the game of 85 yards, tying the score 35-35 after the field goal kick from Jacob O'Neil.
Bringing the win home for the Wildcats, Metter kicked the final three points of the game, ending the game with a 38-35 victory for Linfield.