Cross country runs laps around NWC competitors
Both the men's and women's cross country teams had solid outings this past Saturday at the George Fox University Invitational.
The Lady Wildcats finished second overall out of six teams, coming in behind University of Oregon Running Club by only 11 points, scoring 64 to UO's 53.
Linfield still had plenty of speed though, with third place Northwest University finishing 18 points behind them.
Two Lady Wildcats finished in the top-10 out of 65 runners in the five-kilometer race. Kaelia Neal, '18, finished third with an impressive time of 18 minutes 52.6 seconds. Emma Knudson, '18, finished 10th running 19:41.6.
Unattached runner Amber Rozcicha won the race in a time of 18:16.9.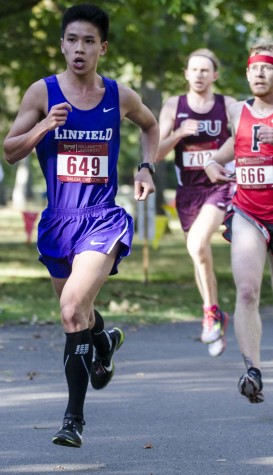 "I was happy with how our teams placed. But I think individually most of us were disappointed with our times. The course was tougher than I expected," Neal said.
Courtney Beard, '19, also had a strong performance, finishing 12th with a time of 19:46.1.
The men's team finished in third out of eight teams, scoring a 75, missing second place UO Running Club by just three points. Lane Community College finished first in the meet, scoring a 52.
Team captain Alex Mangan, '16, led the team in the eight-kilometer run, finishing the race in 26:40.6. Mangan finished seventh overall.
Jeff Lee, '18, and Adrian Clifford, '17, also both ran well, finishing 13th and 15th respectively. Lee ran a 27:01.7 and Clifford clocked in at 27:14.3.
Ryan Jones from the UO Running Club was the winner with a time of 25:59.1.
This meet showed the overall team dominance that Linfield has in the Northwest Conference.
"We're coming off of some tough training so it's definitely encouraging to see how our teams placed," Mangan said. "We're definitely moving in the right direction for our championship season."
Both the men and women have their next race in Estacada next Saturday at the Lewis and Clark Invitational, which is the last regular season meet before the Northwest Conference Championships on the 31st in Tacoma, Washington.
"I'm just looking forward to next weekend," Neal said. "It's the first 6k of the season, and that's the distance we run during championship season."