Farmer's market wraps up the harvest season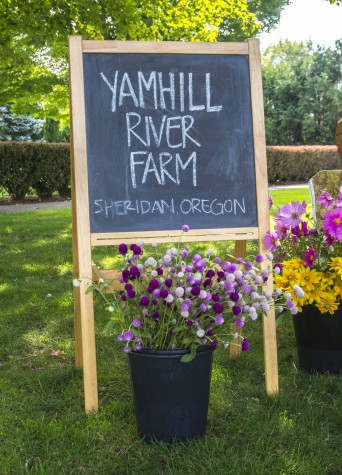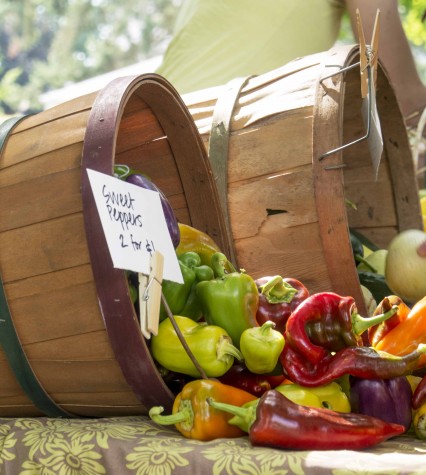 Sept. 16 was the last farmer's market students will have at Linfield until next spring.
The Linfield farmer's market has been a way to connect students to the Yamhill County community through fresh produce and green environmental choices. "This market offers fresh, organic, healthy, vibrant foods that we wanted to bring here for students to see," said Duncan Reid, sustainability coordinator.
There was fresh produce ranging from zucchini to grapes at the market Tuesday. Along with bundles of fresh flowers and even some fermented foods. Students browsed the tables to check out the healthy foods and converse with some of the vendors.
"All of these wholesome, organic foods are harvested from the McMinnville area. Some from the Linfield garden just on the other side of Renshaw, Growing Wild located in the Willamette Valley, and the Yamhill River Farm located in Sheridan," Reid said.
Each of these farms and our garden believe in local, sustainable food systems where fresh crops can be grown and distributed throughout the community. Not only do these foods taste better, but they are also much healthier than alternative food that could be genetically modified. By purchasing from local farms, the McMinnville economy can be strengthened and thrive.
Although this Linfield farmer's market was the last for a while, there is a year round farmer's market at the Grange every Saturday from 9 a.m. until 2 p.m. Another option would be the market downtown off of Third Street which is on Thursday's from 1-6 p.m. Attending these markets is an enjoyable and easy way to get involved and support the McMinnville area.
"If anyone is interested we have plenty of opportunities for you to get involved. You can work in the garden, the markets, or student CSA. There is also an internship program available in the next month," Reid said. If you have any questions or wish to get involved contact Reid at [email protected].