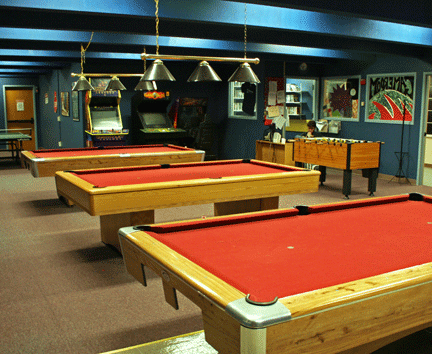 Photo by Ryan Gerdes/For the Review
Dominic Baez
News Editor
Game room usage gained attention after former ASLC presidential candidate Geoff Young proposed adding 10 hours to its operating schedule.
However, some students felt the game room was already lacking interest and couldn't see the benefit of longer hours.
Located on the third floor of Riley Center, the game room is meant to be a student retreat, senior Gregg Christansen, ASLC student center director, said.
"The game room is there so students can relax and enjoy themselves," he said.
The game room is open at 1 p.m. and closes at midnight. Christansen said he thinks this is enough, and students would not use the room if it were open earlier or later.
While it is inexpensive to run the game room—ASLC funds its employees through federal workstudy—Christansen said there are better uses for     the money.
Despite what others might think, Christansen said he believes it is getting used more often than in previous years. He said there are more things to do in the game room than when he was a freshman.
Senior Marcia Willard, who works several night shifts a week in the game room, agrees there is no need to extend the hours, but for a different reason.
"It's been pretty quiet this year," she said. "Normally, (students) just come in, use the laundry card machine and walk out."
Willard started working in the game room during her sophomore year and said she has noticed a decline in attendance since then. She said the international students use it more than anyone else, at least while she is working.
"No one is ever here and (the game room) is pretty open when it comes to hours," Willard said. "It would be hard to be open at any other time and expect students to use (it)."
Willard said she has also noticed some deterioration of the equipment.
"They haven't maintained it very well," she said. "The air hockey table was (unusable) for a while because they were missing a puck, and most of the ping pong balls are broken. It's hard for students to use (the game room) when you can't use the stuff in it."
Willard said there is not enough advertising for the game room, nor are there any events like there used to be, such as pool tournaments. She said this would help increase its popularity with students.
Christansen is in the process of setting up two pool tournaments, one of which will take place before Spring Break. He also wants to buy a Nintendo Wii, which he hopes will attract more students. Christansen said he will create new publicity for the tournaments and the new game system as well.
Willard said she wishes students knew what they were missing.
 "It's better than going downtown and having to pay for pool," she said. "I mean, it's basically a free date. How can it get better than that?"