A thank you to TLR seniors: Emma Olson
"Emma is one of the funniest people that I have ever met," news editor Ethan Myers said with sincerity as editor-in-chief Alexandra Feller nodded in agreement. 
Emma Olson is a graduating senior with a major in journalism and media studies. After completing two years of dual-enrollment courses in high school and three years at Linfield, she is signing off. The Linfield Review has seen Olson rise from staff writer to opinions editor and recognized her for her unique sense of humor.
"If you ask her to go on a hike, she'll go, but she's gonna let you know that she doesn't belong in nature," said junior Chelsea Armstrong. She and Olson were freshman roommates and have been best friends ever since. "We very much decided that we are each other's yin and yang. I am the craziness that is calm and she is the calm that is crazy," explained Armstrong. 
Apart from bonding with Armstrong, Olson spent her freshman year hosting a twice-weekly radio show on the school's former station, KSLC. "It was very informal. I just went in there and started talking into the microphone. There weren't a lot of guidelines outside of 'don't do illegal stuff,'" said Olson. 
"I was terrified of getting sued by the FCC," admitted Olson. For this reason, she was careful to choose music that didn't contain swear words. 
Former editor-in-chief Olivia Gomez hired Olson in 2018. "Ever since I got money I've been hooked!" joked Olson. Her current role as opinions editor is "fun and entertaining," she said. "And I like being the funny guy," she added. 
Olson cites 13 Going on 30 and Gilmore Girls as motivation for her majoring in JAMS. The former "brought me back to life" Olson said, when she was sequestered at home during the COVID lock down. The power-house female protagonists in the movie and TV show encouraged Olson to pursue a career in the journalism field.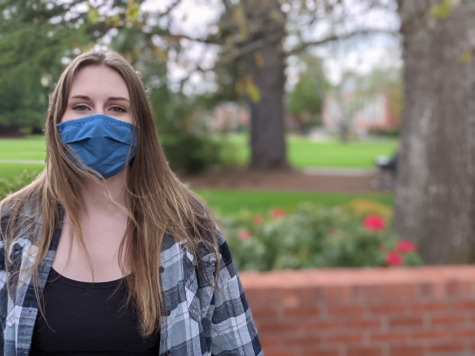 What's next? 
Olson is on the hunt for a job post-graduation. "My mom keeps texting me job listings every day. They started off being kind of relevant. But, recently, she's like 'Marvel Comics needs a new storyboard,'" she laughed. "What are you talking about, Mom?"
Her fellow editors at The Linfield Review highlight Olson's ability to break the ice. "She's really good at kind of making sure people are engaged more than they were," said Life and Culture section editor Nicole Sterba. 
Feller is equally complementary: "Emma always comes with really creative ideas for articles" she said. "The moment she pitches it I can't wait to read it and I hope it gets written," she added.
Armstrong spoke to her quiet nature, "She's like this silent succeeder." 
Thank you, TLR seniors! Check out the rest for our senior series honoring the awesome TLR editors graduating on May 2.