1,000 Days of Comedy comedian makes an appearance
Laughs were all around Ice Auditorium when Sammy Obeid performed his comedy act to kick-off "Dad's Weekend" on Feb. 22.
Obeid has previously starred on Conan, TBS and America's Got Talent, which just goes to show his immense talent.
Obeid has a charismatic personality and made a strong connection with the audience.
He even went so far as to post a photo from his perspective onstage on his Instagram and Twitter.
"I really enjoyed Sammy's interaction with the audience," freshman Rachel Williams said in a text.
Obeid's sense of humor was college student orientated. Since Obeid earned a math major at Berkley.
"Sammy was charismatic and witty, completely relating to us college kids. His jokes made me laugh so hard that my sides were sore afterwards," freshman Sarah Becker said.
Obeid weaved perfectly timed one-liners throughout his act making the crowd helpless to his hilarity.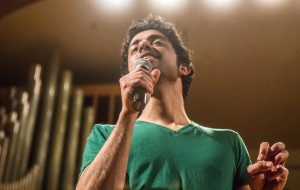 "Sammy was awesome. Even though there were dads in the crowd, he didn't change what he was going to do … Kudos to Sammy," freshman Ian Cooper said.
Obeid participated in 1000 Days of Comedy. He gave the final performance of this 1000-day stretch on Sept. 21, 2013.
Obeid is currently nominated for the Campus Act Magazine Reader's Choice Awards for 2014's Fastest Rising Star. Voting ends on March 1, you can find more on his Twitter and Instagram @SammyObeid.
Obeid was a huge hit to kick off "Dad's Weekend." Obeid cracked jokes that could make any college student, as well as, college student's dad laugh.
By asking the audience for his thoughts and experiences on their subject of  their choice, he made the audience laugh from beginning to end.
Obeid earned his well deserved round of applause.