Wetcats put up fight in dual meets
Linfield's men's and women's swim teams lost both home meets to Whitman College and Whitworth University.
The men's team lost 157-40 to Whitman and 155-46 to Whitworth, and the women's team lost 155-46 to Whitman and 128.5-75.5 to Whitworth.
Despite their losses, Linfield swimmers fought hard to overcome exhaustion and their disadvantage as small teams.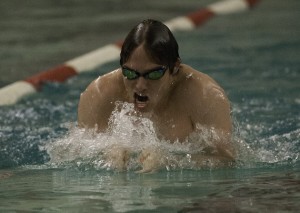 "I think I did pretty well during the meets. I feel I can do better because we had morning practice and we were sore and tired," sophomore Ian White said.
Coach Gary Gutierrez was surprised by the teams' performance at both meets. "They swam really well, especially for a two-day meet," Gutierrez said.
The women's team came close to tying up the score in the meet against Whitworth after the first 10 events with a score of 63-58.
Their success is impressive for such a small team. "Actually, we did really well today [Nov. 9]. The other coaches and I were just talking about how close the women came to the way Whitworth was swimming, who were the conference champs last year," Gutierrez said.
"We all did pretty well, especially the women. We were really close to beating them for awhile, and the men's team did pretty well considering their low numbers," sophomore Elizabeth Fry said.
Although Whitworth and Whitman were tough teams, the Wildcats held their own and shattered PRs in the process.
"I guess you could say it went as well as can be expected against this team. We were going up against one of the number one teams in this conference and we just did what we could," senior Chris Purdy said.
Numerous Wildcats broke PRs during the weekend meets, including junior Maggie May in the 200-yard freestyle with a time of 2:08.81, freshman Jon Williams in the 200-yard freestyle with a time of 2:18.62, and freshman Shelby Thomas in the 50-yard freestyle with a time of 28.17.
The Wildcats' progress so far shows their ability to improve, and they have the rest of the season to continue their efforts.
"This season has been better than last year. We're training a lot harder, we've got more morning practices, and we're just working better as a team," White said.
The men's and women's teams will swim against Pacific Lutheran University at 6 p.m. on Nov. 15 in Tacoma, Wash.