Creative art spreads light
Linfield art students gathered together to hold a candle light vigil at midnight on Nov. 8. The vigil was a simple gathering of Adjunct  Professor of 3D Design Totem Shriver's art classes.
Shriver said that the night watch was also appropriate to the season, where some people celebrate winter during the holidays by lighting candles.
During the vigil, each student shared his or her reason behind making his or her light sculpture.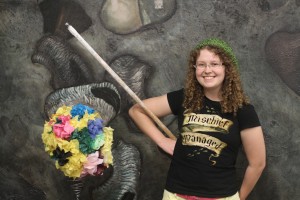 During the past two weeks students had been creating contraptions to hold some sort of light, including wax candles, electric candles or any other sort of light. Shriver called the contraptions "containers of light."
The inspiration from the idea for the containers of light came from light artist James Turrell. The students studied
Turrell and his practice in class. Turell had spent over 40 years working with light art.
Many students had various looking light containers. Some students used artificial light and other used candlelight.
Sophomore Mackenzie Larson made a dome-like container out of foil and wire.
She put a base at the bottom of the dome for her light source.
Junior Quinn Carlin made a wishing well contraption. There were two small square wells next to each other.
One well had red water and glitter and the other blue water and glitter. Underneath the wells candles were lit, making the color water and glitter shine. Carlin gave some students pennies to make a wish into the well.
"I thought the coolest light that I had ever seen was when the light shimmers off water," Carlin wrote.
"I wanted to make something that reflected light through different colors of water. I liked the ideas of wishes and putting them out there. I like the idea of colors going with different emotions. Also I wanted my project to be outside of the box thinking."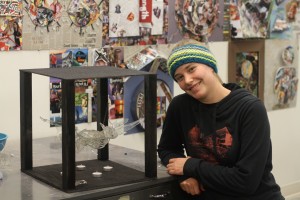 Sophomore Joanna Buchholz created a "twirly gig," as she called it. The "twirly gig" consisted of chicken wire that formed a sphere structure, and the outside was tissue paper.
On the inside of the container was a wood platform with an electric candle. The "twirly gig" was also hung from a stick.
After the vigil, Buchholz along with a few other students set their light structures.
"I liked this project because it gave everyone so much freedom to do what they wanted" Carlin wrote.
"I loved seeing all the crazy light boxes. This is the best art class because you get to make whatever inspires you."