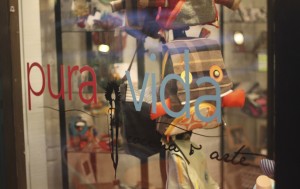 The new Pura Vida Cocina y Arte restaurant brings a taste of South American Latin food to McMinnville's Third Street, where one can find a variety of five star cuisines.
The restaurant's Spanish name, 'Pura Vida' is the Costa Rican song for good life and 'cocina y arte' means kitchen and art.
In April 2013, Carmen Borrasé and Ricardo Antunez-Bahena leased the space that used to be known as the Ochard Bistro. Together the duo created Pura Vida Cocina y Arte that highlights Bahena's chef skills and Borrasé's artistic skills.
"We saw that [Ricardo'] Latin style food and my Latin merchandise had a good relationship," Borrasé said.
According to Pura Vida Arte y Cocina's Biography Description, the restaurants' colorful and artistic interior makes the space an open and friendly.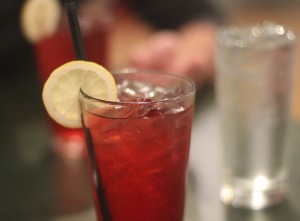 The use of warm, rich colors for the furniture done by local artisans, paintings made by Costa Rican painters and the wide selection of artwork  and merchandise mostly made by Borrasé  also add to the restaurants Latin atmosphere. And don't forget Bahena's Latin American dishes!
Bahena, who grew up working in his mother's restaurant, has learned to add his own twist to the dishes to make them unique from the traditional recipes he picked up from exposure to different culture in Latin America and San Francisco.
"What comes [out of Pura Vida's] kitchen is a little piece of art." Borrasé said, referring to Bahena's Latin dishes that also have an artistic presentation. Pura Vida's Latin dishes are made from local and fresh McMinnville produce. And the artistic merchandise are made from recycled materials.
For instance, there some pieces are made out of "Jewelry made out of seeds and dried fruit… wooden boxes with metallic applications and wooden non-toxic toys."
Borrasé , who is from Costa Rica, became interested in art as a child from the influence of her grandfather, Tomas Povedano, who was the founder of one of the fine arts school called Academia de Bellas Artes de Costa Rica at the end of the 19th century.
She studied art in college as well. Art became a way to express herself.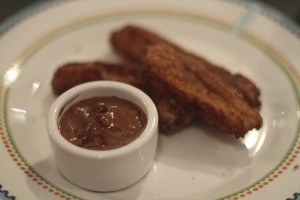 On Wednesdays Pura Vida Cocina y Ate have a Linfield Special Day discount for students and faculty.
They will give a 10 percent discount with the presentation of a valid Linfield ID.
Pura Vida also offers cocktails that are made with fruit and Latin American imported from beer, including Imperial, a Costa Rican favorite. The restaurant also carries imported coffee from Costa Rica.
Pura Vida Restaurant is open Monday through Friday from 11 a.m. to 9 p.m. and they have several employees' that include Linfield students.
Mariah Gonzales / Culture editor
Helen Lee/Photo editor
Pura Vida Cocina y Arte is a new restaurant on Third Street in downtown McMinnville. The restaurant serves a variety of Latin dishes from various countries in Latin America.
Helen Lee/Photo editor
Pura Vida's churros and chocolate sauce for dipping. The restaurant also sells Latin American art.