Men's head basketball coach retires after 26 seasons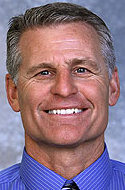 The men's basketball team held senior night Feb. 16 for all players leaving the team to say their goodbyes and receive honors from the program. However, one person was left out on this night.Head coach Larry Doty or "Dotes" as players and other students know him as, is retiring after 26 seasons of coaching the Wildcats.
"It's the fastest 26 years I have been through," Doty said.
The tenured coach has held his position the longest in program history. He also recorded the most victories in program history with 330.
He was the last full-time faculty and head coach hired by the school.
Doty attended West Linn High School, then Linfield for his undergraduate and master's degrees, during which, he was a three-sport athlete, playing football, basketball and baseball.
"I had a great experience here as an athlete," Doty said.
During his senior year playing basketball, coached by Ted Wilson, the team had the program's all-time best scoring record with 2,676 points in 28 games. The team's average was 95.6 points per game.
After having positive experiences with basketball in both high school and college, Doty stepped into coaching himself.
He coached the West Linn Lions men's basketball team. The team took fourth in the state during his final year of coaching.
As soon as he saw an opening for head coach at Linfield, Doty quickly applied for the position.
During his time as head coach, Doty made sure the men that went through his program had positive experiences.
In addition to the 100 hours spent to prepare for about 26 games a season, the team spends time bonding through fundraising events, volunteering and team trips.
"We end up doing those kinds of things because we spend a lot of time together," Doty said.
His players know him for all of the stories that he shares with them, which helps him standout as a lively individual.
"[Doty] is somebody who teaches his players much more than just the game of basketball. He is constantly teaching his players life lessons as well," senior Dakotah Pine said.
Doty's son Dominic Doty is also a member of the basketball staff. He has served as an assistant coach for the past six years, in addition to his four years as head coach for women's soccer.
"I think every son grows up wanting to be like their father. I was just lucky enough to be a part of his legacy," Dominic said in an email. I can't begin to tell you all the things he has taught me or all the ways he has impacted my experience as a coach today. I wouldn't know where to start. But what I can say is that I am what I am as a coach and a person today because of him."
Doty's family was constantly sitting in the stands cheering him and Dominic Doty on at home games. Doty also helped lead game management for the soccer games so he could support his son.
"When you are a coach, your family makes sacrifices," Doty said. "It's been a family affair."
After leading two teams to conference championships in 1999 and 2001, Doty said he is now ready to try new things in his life.
He will continue to teach classes for the Human Health and Athletic Performance Department and also oversee internships for students.
"The things that I will take with me are the experiences with the student athletes," Doty said.
Former players from all over, including ones from Iceland and England, remain in contact with him, following their college careers.
Although Doty has completed his time with the men's basketball program, this does not mean he is done impacting student's lives at Linfield.
"It just seemed like the right time for me, my wife, my family and the right time for the basketball program," Doty said.
Ivanna Tucker/Sports editor
Ivanna Tucker can be reached at l[email protected].