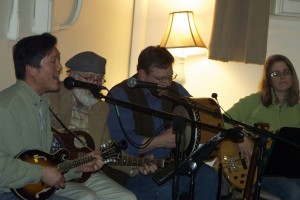 Students and members of the community gathered for the annual, traditional Celtic worship in celebration of St. Patrick's Day on March 19 in the Pioneer Reading Room."The Celtic tradition is a rich, expressive form of the Christian religion," Chaplain Dave Massey said.Massey and members of the Chaplain's Team organized the candlelight service and invited musicians from around the community to perform traditional hymns and reels.
"We're delighted to be here and celebrate Saint Patrick and the Celtic Christian tradition," said Ted Yuen, pastor of the McMinnville Covenant Church.
Yuen, who arranged the service's music program, performed the mandolin and fiddle, as well as vocals.
"This is probably our fourth or fifth year doing this here," Yuen said.
Howie Harkema, operations Manager of St. Barnabas Soup Kitchen in McMinnville, accompanied Yuen on the guitar.
Community members Melanie Jansen on bass, Angela Jansen on vocals and fiddle, Bill Nippoldt on guitar and a handmade Irish drum, and Jeff Elliott on vocals, completed the group of performers.
"Before corned beef and cabbage and great beer, there was Saint Patrick and he was given a lot of credit for bringing the gospel to Ireland," Yuen said.
Song sheets were provided to audience members that featured participatory prayers that were read between song performances.
Several students of the Chaplain's Team read lectionary readings for St. Patrick's Day, followed by a moment of silent meditation that was concluded by instrumental reflection.
The participants were invited to prayer around the cross as the musicians played Caim Dé.
The musicians continued to play traditional Irish songs after the service concluded.
"I was invited, and I came because I thought it would be a really wonderful experience," freshman Jenny Gorman said. "I really liked that we had the lyrics."
For more information about services and the Chaplain's Team, contact Massey at [email protected].
Chrissy Shane/Features editor
Chrissy Shane can be reached at [email protected].