Wildcats strike out Missionaries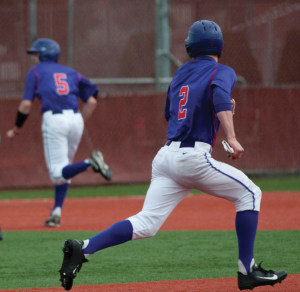 The Linfield baseball team swept a three-game series against Whitman College on March 16 and 17, winning 13-1, 3-1 and 7-2.
Juniors Kramer Lindell and Tim Wilson raked at the dish all weekend. Lindell went 7-10 with three walks, six runs scored and one RBI, while Wilson finished 7-11 with two walks, two runs scored, three RBI and two triples. Lindell also added two stolen bases. Both Lindell and Wilson had four hits on Sunday to end their weekends.
After this weekend, Lindell is hitting .459 with an OPS of 1.135. Wilson is not far behind, hitting .403 with an OPS of 1.066.
When asked about his success at the plate, Lindell said, "Our lineup is solid from one to nine and that forces pitchers to go right after you. Staying patient and attacking your pitch has been the formula this year."
The team effort was evident in game one of Saturday's doubleheader. Linfield lambasted Whitman's pitching, highlighted by a seven-run fifth inning where Linfield sent 12 men to the plate. All seven runs in the fifth inning were scored with two outs. Wilson was 3-3, sophomore Corey VanDomelen reached base three times and scored two runs, and junior Jake Wylie smashed three hits—two of them doubles—and knocked in four RBI.
With the game out of hand after six innings—Linfield led 11-0—starting pitcher junior Chris Haddeland (4-1, 0.97 ERA) was pulled after an efficient six innings. He threw 70 pitches, struck out three and allowed just three hits and one walk.
Game two of the doubleheader was a pitcher's duel between Whitman's Spencer Hobson and sophomore Aaron Thomassen. Hobson lasted 6 2/3 innings and gave up just one run, despite giving up three hits and six walks.
Thomassen went seven innings, gave up three hits and three walks and just one run. The difference in the game was made by senior third baseman Jordan Harlow. Sophomore Kameron Bates and Wylie on second and third base for Linfield, Harlow drove both men in on a two out two-run single to right field.
"That's definitely a situation that every athlete waits for…I was really excited. Any time that you are put in a spot to help your team win, it's a lot of fun," said Harlow, "it was my turn to pick [my teammates] up. I got a good pitch to hit and put a good swing on it."
With the lead in hand, Huckins picked up the victory for Linfield—his first of the season. He fired two innings in relief of Thomassen, giving up one hit and striking out one.
The game on Sunday was tied at two before a four-run sixth inning gave Linfield the lead for good.
The sixth inning outburst was started with a walk by senior Michael Hopp, a bunt single from Wilson and a walk from Wylie.
Lindell scored Hopp with an infield single, and then junior Nick Fisher delivered the key blow: a bases-clearing triple to right center field. The triple was part of a three-hit day for Fisher.
Lindell and Wilson both had four hits on the day to end their weekends.
Sophomore pitcher Joe Stevick picked up his first victory of the season in relief of starting pitcher junior Zach Brandon. Stevick went 2 1/3 innings and struck out one.
With the victories, Linfield improved its record to 15-3, 8-1 NWC.
The team will travel to Spokane next weekend to play the Whitworth Pirates (9-8-1, 4-2 NWC). Whitworth's record is misleading—it was picked to win the NWC by the coaches.
"We believe we are better than anyone we will play this year. We believe in ourselves and we play very well in these big games," Lindell said.
Tyler Bradley/Sports Columnist
Tyler Bradley can be reached at