Campus reels from tragic loss
Suspect ID'd; attack motive being sought
November 17, 2014
The suspect who killed sophomore Parker Moore has been identified as a McMinnville man by police.
The assailant was 33-year-old Joventino Bermudez Arenas. Police are still unclear on why the attack occurred.
"We don't have anything to explain or connect the two. It wasn't a robbery gone wrong; it wasn't an altercation," Capt. Tim Svenson of the Yamhill County Sheriff's Office told The Oregonian.
"From what we know from the sheriff's office's release, this was a random act, committed by someone totally unrelated to Parker," Director of Campus Public Safety Ron Noble said.
Campus safety alerted students via text and email on the night of Nov. 15 regarding a stabbing at 7-Eleven.  Linfield College President Thomas L. Hellie identified Moore on the morning of Nov. 16.
The campus went on lockdown at approximately 11:30 p.m. on Nov. 15. Students were advised to "find a safe area" and stay away from the school if they were already off-campus, according to a schoolwide message from campus safety's alert system.
Those who did not check their emails for the alerts could find alerts on social media, including the app Yik Yak. On the night of the stabbing, anonymous users posted messages such as, "Everyone stay inside. Gunshots heard and an armed suspect out on the loose on campus."
Moore, who was transported to the Oregon Health and Sciences University by Life Flight, died later that night.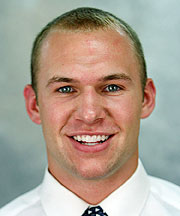 After paramedics and police arrived at the convenience store, store employees identified a man nearby as the attacker. He had returned to the scene with a knife. Police shot him after he refused to give up the weapon.
Arenas was taken to the Willamette Valley Medical Center where died of his injuries.
The Yamhill County Sheriff's Office is leading an investigation into the stabbing.
Police have not released the names of the involved officers, who are on paid leave.
Campus urges students to seek help
"Our first concern of course is to support our students who have been impacted by this tragic event," Dean of Students Susan Hopp said. Hopp was at the Nov. 16 press conference concerning the death along with other Linfield administrators and McMinnville authorities.
Linfield College administrators asked media organizations to "respect the privacy of our students and staff right now, as this has been a really difficult time," Mardi Mileham, director of communications at Linfield said.
Resident advisors have sent out emails to students urging them to utilize on-campus counseling resources and emphasizing the importance of self-care at a time like this. Linfield will have counselors all week to help grieving students.
Included in the emails to students is a "mental health survival" guide with contacts for the Student Health and Wellness Center, Residence Life, and the Chaplain's Office.
Students can keep updated with immediate alerts on events near or on-campus like this by checking their email accounts or registering for text safety alerts on WebAdvisor.
Loss may bring Linfield community closer
Hellie said at the press conference, "I just talked to the parents of Parker Moore. I told them that I was coming here and I asked them what they would like me to say to you. They asked me to tell you that he loved Linfield, and that he had many friends here."
Moore was a resident advisor for Anderson Hall and a defensive linebacker for Linfield's football team. He was from Woodinville, Washington.
Head Coach Joe Smith expressed the magnitude of this loss after a team meeting on Nov. 16.
"We talked about what happened, and it's hard. It's hard for us. Parker was a dear member of the team, and a true family member," Smith said.
"Parker, in my opinion, embodied everything that's good about Linfield," Smith said. "Parker is the young man that you want your kids to grow up to be."
Although many students are supportive of the way the college handled notifying the student body, some may express anger at the situation and concern for their safety.
"CPS should focus on watching townies rather than focusing on drunk students and breaking up parties," one Yik Yak user said.
Noble assured the Linfield community at the press conference that "Even though this occurred off-campus, Campus Public Safety is committed to ensuring the safety of our students, staff, and faculty on and off-campus."
Noble urged students to quell rumors and conjectures about what might have happened, and to wait until the investigation is over.
Hellie expressed his hopes for Linfield to grow stronger because of this great loss, and conveyed his sympathies at the informational meeting held for students and staff on Nov. 16.
"I studied theater in college and graduate school where I devoted a great deal of attention to the tragedies of Socrates, Shakespeare, O'Neill and other great playwrights. I learned then and I continued to learn that we will experience tragedy throughout our lives. I also learned from dramatic literature and from life that tragedy is always invariably transcended by love," Hellie said.
Helen Lee can be reached at [email protected]